Patrik Ouředník | Text of Reading
08. May 2012 11:46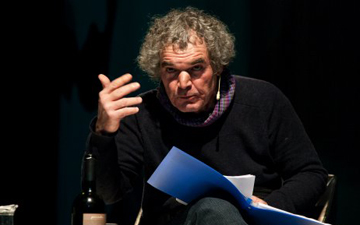 Poem for Pavlínka Kalivodová
Translation © Alex Zucker
This poem is
for Pavlínka Kalivodová
If you don't know
who Pavlínka Kalivodová is
this poem will
mean nothing to you
If you do know
who Pavlínka Kalivodová is
this poem will
also mean nothing to you
If you doubt
whether Pavlínka Kalivodová
exists
try to track her down
in the phone book
in the birth registry
or elsewhere
If you do track down
Pavlínka Kalivodová
write her
a letter
to inquire
whether she is
the Pavlínka Kalivodová
from this poem
Perhaps she will answer
yes Perhaps
she will say
no
If the former
you won't be certain
whether the Pavlínka Kalivodová
whom you have
tracked down
is certain
that she is
actually
her
and not another
Pavlínka Kalivodová
If the latter
you won't be certain
whether
Pavlínka Kalivodová
is mistaken
to claim that
it is not her This poem
could be intended
for her
without her knowledge
You might also
think
a name
as stupid
as Pavlínka Kalivodová
could not exist
and that therefore
Pavlínka Kalivodová
does not exist
You might also think
no one could invent
a name as stupid
as Pavlínka Kalivodová
and therefore
that
Pavlínka Kalivodová
exists
In neither case
however
will this poem
tell you
anything
about Pavlínka Kalivodová
or anything else
as it is intended
for Pavlínka Kalivodová
and her alone
You might also think
that the fact
that it is intended
for Pavlínka Kalivodová
alone
is a trick
and in reality
this poem is
intended
for you
as opposed to
Pavlínka Kalivodová
But this poem
will tell you
nothing about you either
or next to nothing
You might also think
that Pavlínka Kalivodová
exists
but not in this poem
that it is a trick
if not a pretext
enabling
the author
of the poem
to write a poem
that is not intended
for Pavlínka Kalivodová
(in spite of
what he claims)
(though she exists)
or for you
but for him
and him
alone
In the event
that this poem
is intended
for the author
of the poem
and him alone
for Patrik Ouředník
and not
Pavlínka Kalivodová
or you
this poem
will tell you
nothing
about Pavlínka Kalivodová
next to nothing
about you
but will reveal a great deal
about the author
Patrik Ouředník
(assuming such a stupid name
even exists)
If this poem is
in fact intended
for the author Patrik Ouředník
and not
Pavlínka Kalivodová
the question arises
whether Pavlínka Kalivodová
(even if in fact
she does not exist in this poem
and this poem
is not intended
for her)
(in spite of
what the author
claims)
exists
in the author's real life
or whether she is merely
a pretext
or a trick
and if
Pavlínka Kalivodová
exists
in the real life
of the author
(seeing as you
have not bothered
to track her down
or
managed
to track her down
in the phone book or
in the birth registry
or elsewhere)
why the author
feels the need
to write a poem
which in spite of what
he claims
is not intended for her but is
a poem
for him
and him alone
whether it is
for example
an attempt
at formalism
or a desire
for recognition
or an inner compulsion
on the author's part
or for ideological
or other
reasons
You may
think
all of these
while reading
this poem
which is not
intended for you
assuming you are not
Pavlínka Kalivodová
and assuming you
exist
Twenty-four Years. Progymnasma 1965–1989
Translation © Alex Zucker
I remember the twenty-second or twenty-third of August '68 standing in line at the bakery on Strossmayer Square for two hours till my sister came to replace me. I remember she didn't come, so I left the line and got scolded at home.
I remember leaving the line mainly so I would have time before lunch to read some of the graffiti that people had put on the walls. I remember: "Down with the occupiers," "Dubcek, don't give up," "With the Soviet Union forever, but not an hour longer," and "We've got no pearls, Hands off our girls." I also remember one saying, "An elephant can't swallow a hedgehog," which I didn't really understand, and another one, which I especially liked, "Buy a comb, these are lousy times."
I remember "being a decent person" in the early seventies meant not being in the Party. I remember this gradually ceasing to be true, until a "decent person" could also be someone who joined the Party just "for show."
I remember one of my sisters joining the Socialist Youth Union sometime in the '70s.
I remember our having a fight about it and her explaining there needed to be people "on the inside" to dismantle the ideological apparatus.
I remember deeply despising people who flew a flag in their window on anniversaries. I remember there being more and more of them every year.
I remember the sign on trams that said passengers must hold on at all times. I remember I would always quote it the first time I wanted to give a girl a hug.
I remember subway passengers being required to grip the moving handrail.
I remember learning Pavel Kohout poems by heart at seventeen so I could drop them into conversation.
I remember a poem about tractors: The uproar, the fuss / The laughter, the curses / The heated conversations / When instead of horses / A pair of new tractors / Came to help with last year's harvest / Tractors, tractors / Come to shatter / Obsolete views / An obsolete system.
I remember older people pronouncing "USSR" you-ess-ess-are, while later generations said oo-s-s-r.
I remember socialist morality, socialist thought, socialist manufacturing, the broad working masses, the victorious working masses, socialism with a human face, the radiant future, the jubilant future, the future that rests in our hands and our hands alone, tomorrow in arm's reach, our worldview, the indomitable will of the workers, the working intelligentsia, the working masses, declassé elements, anti-socialist elements, eternal grumbling, embittered revanchists, right-wing opportunists whose wheat won't grow here, rancorous enemies of our socialist system, blighted shoots of socialism, a portion of youth.
I remember a story about a newspaper kicking a proofreader off the staff for missing a mistake in the radio schedule: instead of "program on V. I. Lenin" it said "pogrom on V. I. Lenin."
I remember a story about the head of Pankrác Prison getting in trouble for putting a "Welcome" sign over the gate on the occasion of an official visit from the USSR.
I remember the workers of the Tatra auto plant taking a pledge to produce ten extra chassis to celebrate Vladimír Remek's flight in space.
I remember Vladimír Remek's space flight being the most beautiful gift our women could have received on International Women's Day.
I remember them burning Hrabal's books in Prague in 1975.
I remember people comparing Hrabal's officially published books with the samizdat editions and arguing about what was a "stylistic intervention" and what was "self-censorship."
I remember Karel Kryl saying in an interview: "As long as Vaculik isn't allowed to publish, Hrabal is a whore." I remember someone telling me it was easy for him to talk shit.
I remember Red Law, the Communist Party daily, publishing an essay about emigrants running away from themselves, which of course is impossible.
I remember that in 1989 there were more than one and a half million members in the Communist Party of Czechoslovakia.
Or Else
Translation © Alex Zucker
i'll say
morning gloom
slurping hacking
sleeve mouth wiping
sidelong glancing silently askance
and behold, someone's mouth opening
anew and differently
and behold
a word escaping the larynx
scraping past the Adam's apple
rising through the throat
sliding along the tongue
crowding past the teeth
dripping from the lip
flowing down the chin
dropping into the soup
and
at the last moment
just barely by a whisker by a squeak
missing becoming a grease spot
two thumbs thick
turns around and declares
yes
that's more or less
what i wanted to say
Treatise on the Proper Use of Wine, Grandly & Unremittingly, for the Pleasure of Body & Soul & in Defense Against All Manner of Ailments of the Limbs, External and Internal, Composed for the Instruction & Use of the Brothers of the Swilling Brigade
Translation © Alex Zucker
What Is Suitable of a Morning
The best hygiene is a cheery soul: any sot heedful of morals is keenly aware of this. Delicious wine, imbibed on a fasting stomach, furnishes fresh strength to those who make diligent use of the owl's hours; wherefor Hippocrates speaks of monkey wine, which promotes good cheer, hog wine, which induces vomiting, lion wine, which particularly refreshes those of a belligerent nature, and sheep wine, which leads to mild manners. Hola! The sparkle of my brother's nose! Bear in mind: 'tis never too soon to drink wine. Wherefor the first suitable thing of a morning is to rinse out the mouth, moisten the lungs, bathe the intestines: and in this way you shall caper at a brisk step the whole day through.
And the whole day through, wine shall furnish you with a firm and decisive stool, referred to by the wise Epistemon as papal, being by its nature infallible. Conversely, he who drinks water or other such things in the morning shall be of uncertain and shaky anus till the late evening hours; and shall lie down sweaty and have evil dreams. And conversely he who drinks wine shall have a clear conscience and peace of mind from sundown to sunup; and from one day to the next and so forth.
And wine shall furnish you with a healthy, pink urine, silky as a stag horn. And the urine of those who drink water shall be cloudy and sulfuric.
And wine shall furnish you with a mighty and beauteous member, and you shall flog it at will, and gaze upon it in gratitude. Whereas the members of those who drink water shall be filled with bubbles and hiccups.
And wine shall fortify your forearm and abdominal muscles, and your legs shall be as the masts of a great sailing ship; and conversely, those who drink water shall be sluggish and lacking even the vigor to lift a flail.
Europeana. A Brief History of the Twentieth Century
Illinois: Dalkey Archive Press, 2005
Translation © Dalkey Archive Press
Young people said that racism was a result of the old world and that it was necessary to rethink the world and televisions and refrigerators were less important than love and happiness. And they did not want their parents to tell them what they had to study and to forbid them to smoke and have sexual intercourse and wear long hair etc. The nineteen-sixties represented an important watershed in the history of western society because material prosperity prevailed and women had access to contraception and young people became an important component of public opinion and in time older citizens started to engage in sport also and dress in young fashions and have sexual intercourse in various ways and voice novel and informal ideas and when someone was not young in spirit at least they belonged to the old world. And sociologists said that bourgeois society was extinct and been replaced a new form of society that they called adolescent and they said that it indicated a radical change in the evolution of Western society and that it was necessary to reflect on this. And some philosophers said that the cult of youth was one of the silliest things in the history of the human intellect and it was indicative that it was invented by the Fascists and Communists and democratic societies were foolish enough to borrow the cult of youth from the Fascists and Communists and others on the other hand said that it was all right that youth was possibly silly but it was dynamic and that was positive. Sociologists said that being positive was a new value in Western civilization and it had replaced traditional humanist values that were no longer appropriate to the state of society. Being positive meant that people would look forward to the future with confidence and take part in sports and live healthily and harmoniously and visit the doctor regularly and live to an advanced age and work hard in order to enjoy their retirement and wear young fashions. And no one wanted to be poor any more and everyone wanted to have a refrigerator and a cordless telephone and a dog and a cat and a tortoise and a vibrator and take part in sports and attend psychoanalysis. Catholic philosophers said it was the fault of Protestants because they emphasized the importance of material success and GOD HELPS THOSE WHO HELP THEMSELVES whereas the Catholics believed more in WHOM GOD LOVETH HE CHASTISETH. Protestant philosophers on the other hand said the decline of the Catholic Church proved it was unable to move with the times and that mentalities evolved and pastors could marry and satisfy themselves sexually and so better propagate Christian ideas in a society dominated by nihilism. And people in cities got themselves dogs and cats and tortoises and guinea pigs for their homes because dumb animals were faithful friends even in an alienated world. And dogs and cats had their own hairdressers and beauty salons and fitness centers and convalescent homes and morgues and cemeteries etc. And American soldiers returning from the Vietnam War clubbed together to build a memorial to the 4,100 American dogs who fell in Vietnam for freedom and democracy. And in the developed countries farms were set up that were known as countryside museums or countryside corners and city people would visit them to see what a horse or a cow or a hen looked like because farm animals had gradually disappeared from cities. And other animals became scarce too such as badgers and owls and tree frogs and butterflies and beetles on footpaths and ecologists said that it was the fault of environmental pollution and pesticides and exhaust gases etc. And some ecologists used to carry out night raids on medical and pharmaceutical research facilities where tests were carried out on animals and they released monkeys and rabbits and hamsters and dogs and snakes and frogs etc. And more and more people thought that it was necessary to protect animals and they set up societies for the protection of animals and sometimes they dressed up as bears or kestrels and demonstrated in city streets against hunters and against bullfights and against scientific experiments on animals and said it was inhumane to kill animals. Some of them were vegetarians and ate carrots etc. Hunters said they hunted animals in order to maintain tradition that traditions were being lost and that traditions were important in the modern world. And every year some hunter killed another hunter instead of a wild boar by mistake and the other hunters clubbed together and bought his widow a new washing machine or something similarly useful for the home.
House of the Barefoot
Translation © Alex Zucker
reader, take heed!
Reader, take heed! Do not eat this book! Whoever eats this book shall have his face blow up and his skin swell up all over his body, his cornea shall turn scarlet red and his pupil dilate enormously and his eye bulge out. Whoever eats this book shall see everything double and all will go black, he shall have mad visions and dream that he sees wild men hopping up and down. Do not eat this book! One morning, seven-year-old Martin H. crept into the closet and removed lid after lid until he found this book – next thing you know, his hand was reaching out for a taste! But what is this? He turns suddenly pale, lays his head on the shelf, eyes rolling and bulging, turning delirious. And he is gone! And another time: A doctor was summoned to the residence of Mr. and Mrs. K. Imagine his horror on discovering that the man was already a corpse; his wife was shrieking and carrying on like a madwoman. Upon careful examination of the bedroom he discovered this book in a sack beneath the mattress; the man succumbed to an urge in the middle of the night and carelessly sank his teeth into it. And another time: Mrs. D. was celebrating her name day. She invited her two sisters and other relatives for lunch. Before long the feasters began to complain that they were not feeling well, they suffered dizzy spells, nausea, ringing in the ears, quaking limbs; soon added to this were cold sweats, clouded thoughts and vision, a feeling they would faint. The hastily summoned doctor prescribed tickling of the throat and rubbing with strong vinegar, but it was too late! The unheeding Mrs. D. had mixed this book into the soup! And another time: Forty-four-year-old P. B. and his wife consumed the boiled roots of this book for supper, he being of the opinion that the book was edible. At midnight the two awoke and began dashing around the dark apartment in a frenzy, cracking open their heads and disfiguring their faces with bruises. Fortunately the intensive boiling reduced the severity of the roots' toxicity and the doctor managed to save the unfortunate souls; but they were never the same again. Reader, take heed! Do not eat this book even if cooked!
The Key Is at the Tap. Folklore from the Stalls
Translation © Alex Zucker
I was having a real gas, until my shit fell out my ass.
Shit quick, shit quiet. You're being watched.
Comrade! Don't crap on our mike!
Do you suffer from constipation? Listen to Miloš Zeman every morning at 6:45!
Case Closed
Illinois: Dalkey Archive Press, 2010
Translation © Alex Zucker
Nor did Dyk harbor any particular antipathy toward female students of fine arts. It was people in general that bothered him. Although it was true, the younger they were the more irritating he found them, in accordance with the simple rule that the more recent their date of birth, the longer they would be sullying the earth with their presence. Old people were no more appetitlich than the young, but they did have one mitigating quality: they wouldn't be kicking around for long. Not that Dyk had any illusions: for every—
"Why, hello! What have we here? Mr. Dyk! Gorgeous weather, isn't it? And how are you doing?"
A fat, pink-cheeked retiree with a scarf on her head—a rare thing these days—and a half-empty, or rather half-full, plastic bag sat down heavily on the bench next to Dyk.
"Oh, you know, Mrs. Prochazka." Dyk discreetly slid over.
"Have you heard? Mrs. Horak was hit by a car."
"No! Is it serious?"
"Serious or not, she's dead from it, dead as a doornail. Supposedly she staggered home, opened the door, and bang! she was gone. She couldn't breathe, poor thing, and her eyes were wide open."
Not that Dyk had any illusions: for every dearly departed, 2.2 specimens of the new brood came rushing into the world.
"The eyes of the dead lend their sparkle to the stars."
He said.
"Proverbs 8:125."
He said.
Dyk had a habit of pulling pronouncements out of his noggin and dressing them up with fraudulent, usually biblical, sources. Long ago he had come to realize that repeating what someone else had once said was considered the utmost expression of intelligence in his country. At one time, in the days when he still collected beetles, he used to declare ownership of his pronouncements ("as I always say"), but he never got any response except an awkward smile. Until one day it occurred to him to add "Book of Ruth 6:4"—and lo and behold, eyes lighted up all around; women's in appreciation, men's in envy. Since then, he had done so every time. "Night is the harbinger of the morn. Leviticus 10:2," he said, rising from his chair as he left the office party. "Dig in the sand and ye shall find yourself. Ecclesiastes 5:17," he urged a female colleague whom he had set his sights on. "The father calls out in a mighty voice, Beware, but the son hears not. Gilgamesh, Canto Three," he consoled a neighbor complaining about the behavior of his adolescent offspring.
Nor did it fail to have an impact this time. Mrs. Prochazka snorted in glee and gazed at Dyk admiringly.
"You always know how to put things," she said.
"Sum them up," she corrected herself.
"Concisely," she specified.
"I was talking about you with Pavel just the other day," she added. "You know, my husband. Mr. Dyk always knows how to put things, we were saying. And he knows so much!"
"Oh?" replied Dyk absently but by no means impolitely. Why be unpleasant? It was bad enough just looking at her.
"Pavel was saying you would get along with Teddy. You know, our son. He's got a business now, renting boats at Revolution Bridge. And he knows so many interesting things! Mostly from the past, all sorts of battles and wars and where things were signed and so on. If he wasn't already in business he could easily teach history. Maybe at a prep school or at university."
Another old-timer came puttering up to the bench. He had a beret on his head—a rare thing these days—and a half-full plastic bag in his hand.
"What gorgeous weather!" chimed the old-timer in the beret. "How's everyone doing?"
Dyk scowled. If it kept on like this, his favorite bench would turn into an annex of the retirement home.
The old-timer in the beret dropped down beside Mrs. Prochazka, who slid closer to Dyk, who discreetly slid away.
This is a regular Paleolithic site, he thought resentfully.
"By the way, have you heard? Mrs. Horak was hit by a car."
"Mr. Dyk and I were just talking about it. Poor woman. Supposedly she staggered home and her eyes were wide open. Mr. Dyk says that the eyes of the dead lend their sparkle to the stars."
"Hm," said the old-timer in the beret.
Without the source being cited, the statement was utterly worthless.
*****
Viktor Dyk leaned over the parapet of Revolution Bridge, eavesdropping on Teddy who, seven meters below, was bending the ears of two high school hotties—who'd come with the intention of taking a lazy row downstream while sharing their paltry existential problems with one another—with one historical date after the next. Viktor Dyk listened in with, so to speak, professional interest: in his country, the spewing of dates is a popular variation on the citing of nonexistent sources, which Dyk had chosen as his social strategy years ago. The Czechs believe that anyone who remembers dates can't be totally stupid. The subtle insertion of historical dates into conversation testifies not only to a penetrating intelligence but a vigorous patriotism—twice as desirable at a time when Brussels technocrats were busy thinking up ways to trample the Czech nation under the bureaucratic wafflestomper of Europeanism. In short, the Czechs devote such passion to the memorization of dates that, apart from them, they don't remember anything at all.
If Dyk opted for biblical sources rather than dates, it was for two reasons, which, for that matter, were connected: there was significantly less competition in his chosen field, meaning 1) he could shine all the more brightly, while 2) reducing the risk that anyone might correct him. In addition there was a third, albeit secondary, reason: in high school Dyk had had a classmate—a nerd, brown-noser, star pupil, and tattletale—whom he truly couldn't stand, and who could reel off historical dates like the multiplication table. His name was Karel Krezlar, so the kids in school would taunt him: "Kay Kay goes caca, and he also bugs the shit out of us!"
Karel Krezlar later became a psychologist and wrote popular books on memory and memorization techniques. He even invented a universal mnemonic device consisting of the conversion of consonants to numbers. With the aid of this so-called bridge, whereby numbers were converted into words, a speaker could recall any date at will. (The year 1620, for instance, corresponded to "Fear the night"; the year 1670 to "It was a teacher"; the year 1415 to "Burning log"; and so forth.)[1] In the late seventies, the method was introduced, on an experimental basis, for instruction to first-year students at three high schools in Brno; it soon became clear, however, that the young learners, failing to grasp the sentences' metaphorical meaning, had more problems remembering the bridges than the years themselves. Most of them spontaneously revised the bridges, based on their own dialectic ("Burning teacher," "Fear the log," "It was at night"), leading them to entirely errant historical conclusions. One such unfortunate became celebrated in professorial circles for an essay in which via Dr. Krezlar's method he arrived at the conclusion that the Battle of White Mountain had taken place in 6702; and since this was a thoughtful student, to whom the absurdity of this statement was immediately obvious, he inserted the brief clarification "before our era."
---
[1] 1620: defeat of Czech nobles in an uprising against imperial Austria's forces in the Battle of White Mountain. 1670: death of Comenius (Jan Amos Komenský), Czech teacher and scientist, often considered the father of modern education. 1415: Jan Hus, Czech theological reformer, burned at the stake for heresy.