28. August 2014 17:31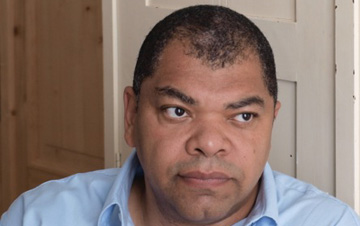 One of the stars of Czech literature, Tomáš Zmeškal—the son of a Congolese father and a Czech mother—was born in Prague in 1966. During the 80s, he was a member of the famous underground band Psí vojáci (Dog Soldiers), led by Filip Topol. In 1987, he left Czechoslovakia and went to England, where he studied English literature at King's College in London.
Zmeškal's debut novel, published in 2008, "Milostný dopis klínovým písmem" (Love Letter in Cuneiform Script) was a great success. Using a post-modern and fragmented style, the author presents the story of a couple torn apart by the regime's secret police. Shortlisted for the Magnesia Litera Award, the book received the distinguished Josef Škvorecký Prize, as well as the European Union Price for Literature.
"Životopis černobílého jehněte" (Biography of a Black and White Lamb), published in 2009, describes the racism that Zmeškal experienced under communism. "Sokrates na rovníku" (Socrates at the Equator) appeared in 2013.
Tomáš Zmeškal lives in Prague.