Abolghasem Esmailpour Iran PWF 2018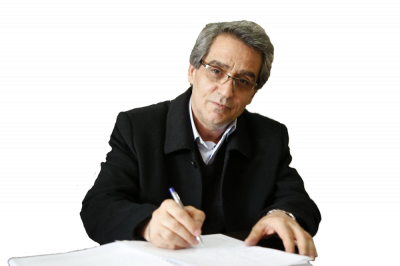 .
"Death smells us—we smell it too. Death is a seed we sow on the earth.
It is the seed of evil—seed of dream. Dream is the sister of life."
Poet—mythologist—soothsayer—Abolghasem Esmailpour was born in 1954 in Babol, Iran, near the shores of the Caspian Sea.
"We are prowling at the graveyard of the day—forgotten each other's name. That who is knocking at the drum has a black circle on his head—extinguishing the lamps—not throwing the grapes a smile."
A brilliant scholar—Abolghasem Esmailpour resides as Professor of Ancient Culture and Languages at Shahid Beheshti University in Tehran, pursuing the myths running through Mesopotamia, Babylonia, Assyria, and Persia.
"Your eyes are anxious. The moon is a forgotten tale—and the wounded tigers are dying."
His works include: Manichaean Gnosis and Creation Myth; The Hymns of Light; Symbolic Expression: A Handbook of Persian Literature; and the poetry collections Moments: New Gnostic Songs, Each Grain of Sand, Up to the Cherry Tree, and Beyond the River of the Day.
"Who called me? A bird—or a pebble? A song—or the beat of death? The star's wing—or the the moon's chain? Ah, the petrified angel—!"
Abolghasem Esmailpour lives in Tehran.

08.11.2022 Articles

12.06.2018 Readings