Bensalem Himmich Morocco PWF 2014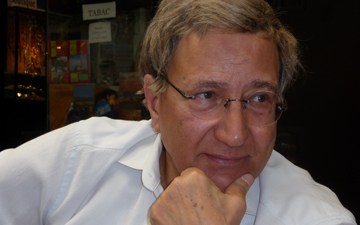 Permanent advocate of the classical splendor of Arab culture, Bensalem Himmich was born in 1948 in Meknes. After studying philosophy in Morocco and France, he later became a professor at the Mohammed V University in Rabat.
In addition to writing more than twenty-five books in French and Arabic, Himmich joined the Socialist Union of Popular Forces, a left-wing movment which advocated the separation of religion and politics. As a result of his struggle, he became the minsiter of culture from 2009 to 2012.
Bensalem Himmich's philosophical works view the relationship between Islam and the present social conditions of the Muslim world, analyzing events with a precision unspoilt by ideology.
In 2002. Himmich was awarded by the Naguib Mahfouz Medal for Literature for his book Al-'Allamah (The Polymath), about the great Arab writer and thinker Ibn Khaldoun. A year later, he received the UNESCO-Sharjah Prize for Arab Culture, in recognition of his literary work.
Bensalem Himmich books include: De la formation idéologique en Islam (Ideological Formation in Islam), Majnun al-hukm (The Theocrat), and Hadha Al-Andalusi (A Muslim Suicide).
Bensalem Himmich lives in Rabat.