Bensalem Himmich: A review of The Theocrat
13. August 2014 12:37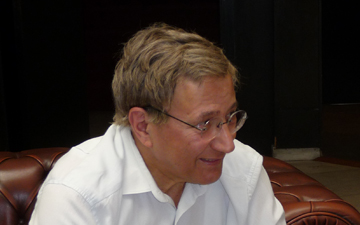 History is riddled with nightmarish figures, but perhaps none so malicious as al-Hakim bi-Amr Allah. Bensalem Himmich's The Theocrat depicts the frightful reign of this ruler and those most affected by his regime.
What's noticeably different about Himmich's novel is how it is peppered with reports from historians weighing in on al-Hakim's reign. These statements act as both introductions for the reader as well as realizations that this is not just a novel but a narrative based on fact. The stories of this man provide excellent creative material. However, it's difficult to really immerse yourself in the novel knowing how these people suffered, which is most certainly Himmich's greatest objective —providing insight into this horrific and sordid part of Islam's history. It's difficult to enjoy a novel filled with such pain. Al-Hakim would get off on torturing and slaughtering his own people and justified these acts with his constant wishy-washy rule making. However, while we must experience his followers' suffering, we also witness al-Hakim himself suffer. His undiagnosed cornucopia of illnesses agonizes al-Hakim, leaving us, the reader, left in a dilemma. Should we feel pity for this tormentor or delight watching him waste away in misery? Perhaps Himmich wants to show us both sides of this evil, and yet, this tug-of-war of emotions cannot help but prove stronger on the side of content in observing al-Hakim's afflictions.
Conceivably some of the most important transcriptions are the interweaving themes of self-discovery and religious ponderings. Often the reader finds himself witnessing what can only be considered as "motivational speeches," as different leaders, including al-Hakim himself, speak to God and interpret His desires and inspirations to adapt to their own lives. These doctrines are then furiously transcribed and poured over again and again by their devotees for hidden meanings and lessons.
If this novel is still not sold on you, there are also the perhaps controversial moments one would not expect to find in an Arabic novel, heavy with religion and therefore presuming to be on the conservative side of historical fiction. And yet, the tale of the large slave Mas'ud's giant, misshapen penis used as a tool for punishment via sodomy ought to be one for the history books—well, the university history books anyway. There are also instances of using young boys as sexual beings, a "chorus of transvestites," and spitting into anuses. Thus, one can confidently say The Theocrat has something for everyone.
Taking a step back from al-Hakim is his opposite, Sitt al-Mulk, his sister and the most beautiful specimen God has had the pleasure of creating. She puts an end to her brother's terrifying reign by means of his murder and pushes the reset button returning Cairo to being habitable once again. However, while al-Hakim could blame his actions on his many psychological diagnoses, Sitt al-Mulk too finds herself acting in similar situations involving mass murder and conspiracies. Therefore, perhaps what is to blame here is the immense pressure of such a demanding role. Like her brother, Sitt al-Mulk winds up murdered in the end, also for what God gave her. Conversely, this time instead of for a bipolar disorder or Melancholia, she dies for her overpowering beauty. Both "cursed" by God and thrown into impossible tests, this brother and sister—two sides of the same coin—may have failed their trials, however, they brought such an immense wealth of knowledge to their people, leaving them to interpret and reinterpret their numerous mantras and soliloquies of attempting to understand life through metaphors.
Apart from the complex content, the reader can also look forward to appreciating Himmich's writing itself. With poetic language like "eviscerated over scaleless fish" and "wrapped in an aura of supercilious arrogance" it's next to impossible to not want to steal his words for yourself. Such language is beautiful in its horror—contradictory—mirroring al-Hakim himself who both loved and hated with all he had. In his paradox, the novel really embraces the ridiculousness of al-Hakim's story detailing the moments when he changed night into day and approved of a man working in the daytime as a form of "entertainment." Credit must also be given to the translator, Roger Allen, who dissects Himmich's language and reveals what we must believe is just as striking in Arabic. The language Allen brings, which often has a Shakespearean element to it, allows the reader to revel in his words and often consult the nearest dictionary. Words like "dragoon" and "obstreperous" add an intellectual flair, which is incredibly valued in this novel.
Bensalem Himmich gives his readers the almost unbelievable account of perhaps Islam's most notorious "Jekyll and Hyde" sovereign. The chronicle of al-Hakim and his omnipresent blond donkey tells a story that can only be described using its own words—a tale full of "vituperative eloquence."
Written for PWF by Katie Cloutte