Saadi Yousef: A Friendship
22. February 2011 15:44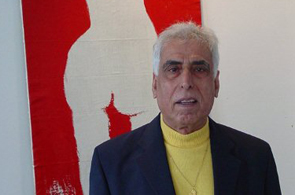 When I extend my hand to you
you only shake my fingers.
When your hand reaches out
how can I hold only your fingers?
We who were raised in innocence
and sowed innocence,
we who long for no past innocence
or future innocence,
we are the children of that liquid
trapped between two seas,
children of those who hammer
at the wall until dawn
and find gypsies resting
against the other side.
A quarter of a century since then
and we arrive to find
that Ibn Taymiya has turned
into the head of a bludgeon
and al-Muwafaq is still cleaving
rebellious slaves
from the womb of the earth.
The police of Damascus kick us
and the police of Iraq
and the Arabs' American police
and the English
and the French
and the Persian
and the Ottoman police
and the police of the Fatimide caliphs
Our families
kick us,
our naive, good-hearted families,
our murderous families.
We are the children of this madness.
Let's be whatever we wish.
What we share is not trust.
We share the throat of the bleeding flower.
Between us the storm emerges
from its elements...
I say: "Let's shake hands."
Beirut, 8. 4. 1979