Saadi Yousef Iraq PWF 2011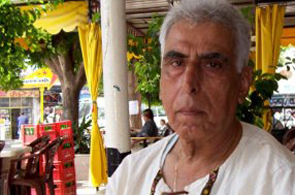 Born in 1934 in Basra, Iraq—Saadi Yousef "has become, through the vicissitudes of history and the cosmopolitan appetites of his mind, a poet not only of the Arab world, but of the human universe. He has lived in and communicated with the cultures and literatures of Algeria, Lebanon, France, Greece, Cyprus, Yugoslavia, and this dialogue engages and informs his poetry."
Saadi Yousef started writing poetry at the age of seventeen and has published over thirty collections of poetry since permanently leaving Iraq in 1979, after Saddam Hussein's rise to power.
"Night begins
in his old continent
and the porcupine moves
slowly
with laughing eyes,
glad the earth is full
of these temptations."
Saadi Yousef currently resides in London.