Saadi Yousef: Does the future occupy the past?
03. February 2011 13:43
Saadi Yousef in conversation with Michael March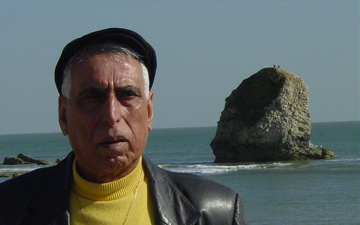 Michael March: There is the need for roots—but the poet and philosopher are always homeless.
Saadi Yousef: Philosophically, one considers the artist as an outsider. An active observer. In the main stream, yes—but without strict obligations other than his own code of conduct.
MM: Describe your "life of forced departures".
SY: Well, it is a long and detailed story. It is a whole life!
MM: The "dignity of personal experience" is preserved through courage—defined by Aristotle as experience and knowledge. How have you preserved your dignity?
SY: I have preserved my dignity by acting as an idiot!
MM: Must we suffer to find the core of truth—?
SY: No way, we have to suffer!
MM: Is freedom "always kin to voluntary poverty"—?
SY: For sure, not! Money is a liberator!
MM: When does "a bed forget the floor"—?
SY: When the partner opts to mount!
MM: Does wisdom lead to justice?
In theory, yes!
MM: Can we be "whatever we wish"—?
SY: That is our ultimate!
MM: Today the future occupies the past. How do you see the future—?
SY: In our century, I think the reactionary past-the eighteenth century—is manipulating our future.
November 2010