Salah El Ouadie : A Letter to God
03. July 2014 11:25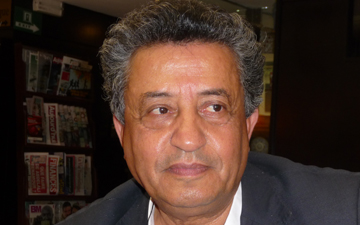 A letter against fanaticism, extremism and blindness
In this text, Salah El Ouadie, addresses a letter to God as a complaint in which he makes a clear discernment between all the good aspects of God's creations: life in its multiple forms, nature and its abundant gifts; the varieties of species on earth; the miracles that human beings enjoy; their ability to speak, to discern, to think, their solidarity; the beauty of women the nobility and power of decision of men. All these abundant gifts from God are opposed to "them", "those who" and "their" foul deeds. These pronouns, repeated throughout Salah's text refer to the fanatics, the extremists and, the blind in his subtitle of the text. They are the terrorists who, juxtaposed to God's goodness are using his name to accomplish their terrible acts: killing innocent children, making widows, spreading fear, imprisoning women with "visible and invisible chains", pretending to respect God's words and delivering hypocritical speeches to justify the cruelty of their actions, whereas God's main message is to spread peace and justice on earth through a variety of languages and worshiping ways.
Salah refuses all these fake, man produced rules attributed to God:
"You and you alone can judge our souls. […] You and you alone can judge our lives and the meanings we give them. "You created mind as a beacon for the world but they seek to extinguish that light and […] drag people to their sombre caverns of ignorance and conceit.
Islam for Salah is meant for the one and a half billions of Muslims to live in peace with the rest of humanity and to make of difference a source of richness. Event prophets, says Salah, cannot equal God's generosity and he gives the example of Prophet Abraham to whom God reproaches and attitude of intolerance towards a guest who declared his lack of faith in God: "I created this man and let him live 70 years and though he did not believe in me I did not deprive him of sight, or hearing or of his part of living on this earth."
The Poet concludes in a prayer addressed to God quoting Jesus who asks his Lord to "forgive them since they don't know what they are doing" Salah thus addresses a prayer to God for these lost souls so they find, instead of crime and hate, a path back to God and noble acts.
Translated from the Arabic by Hafsa Bekri-Lamrani