The Blue Octavo Notebooks by Franz Kafka
06. May 2020 14:00
"There is infinite hope in the universe…but not for us," Kafka writes.
If hope is infinite, is there room for us?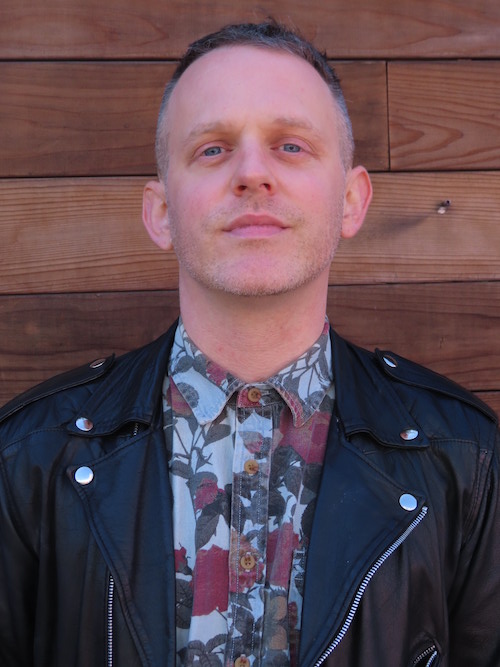 Kafka's answer is, to put it succinctly, not much. To put it less succinctly—and establish a body of work—it depends on who is meant by us.
Consequently, Kafka devoted his life to self-diminishment—"…the good fortune that the ground on which you are standing cannot be larger than the two feet covering it."
He had been gifted antennae, you could say—but I won't.
•
The Blue Octavo Notebooks comprise fragments of fiction, diary, correspondence, and forms beyond category, all rendered in procedural language so dense that the text threatens to slide off the page. I wondered: Why can't Kafka's style compliment his fanciful characters? What good is a lawyer who writes allegories?
Kafka, perhaps inconclusively, concludes, "The inner world can only be experienced, not described." It so happens that the Notebooks' bullfighter, leopards, Sirens, snake charmer, stork, and all others emblemize conflicts originating in that inner world and never exceeding one's bodily dimensions.
•
Once, Kafka, reading his work in public, evoked "a quiet, desperate magic" while crumpling up a postcard from his fiancée. The evening was such a triumph, he walked home in euphoria.
Elsewhere among friends, he faced a different ordeal while sharing the first chapter of The Trial — nobody could stop laughing. It's difficult to convey a text through so many interruptions, but on that night—a first and a last, as I see it—The Trial was breathtakingly hilarious, side splitting.
I suppose Franz's sense of humor pushes at arm's length both the anti-Semitism he experienced—such as the rioting Czech nationalists who looted his family's shop—and the horrors he prophesied, though obliquely, like absolutely nobody—the fate of his sisters and most his lovers.
•
Tuberculosis declares itself at 4am in summer 1917. After coughing up his lungs, Kafka returns to bed and falls into a deep sleep. I can't resist noting that Gregor Samsa, invented two years earlier, sleeps through the alarm he had set for 4am. Instead—and I hope not to spoil this for anyone—he awakes, depending on the translation, as an insect, cockroach, or vermin.
In Oakland, the editor of this article provided me a brand-new copy of The Blue Octavo Notebooks. I discovered in its pages a tiny spider had been flattened. Made lifeless, its size was diminished further.
•
In the penultimate notebook, Kafka ghost writes the autobiography of his young friend Yitzhak Löwy, a Yiddish actor, who was undergoing a "grave spiritual crisis" and sought clarity by telling the writer about his life. What results is a moving account of a budding artist identifying his calling, one that will estrange him from family yet direct him toward his origins—a parallel lineage he intuits as though through a veil.
The majority of this notebook is devoted to Franz's Hebrew lessons.
Elsewhere, Kafka sounds more himself: "The thorn bush is the old obstacle in the road. It must catch fire if you want to go further." Or he plays ventriloquist giving voice to God: "Why I have not been set down in a better country I do not know. Am I not worth it? One must not say that. Nowhere can a bush spread more richly than I."
A year before Kafka succumbs to tuberculosis, a Zionist intellectual offers him a room in Palestine; Kafka declines while conceding that "the ship virtually docks at the threshold of my room and you are standing there asking me. …that the voyage would have been undertaken with you would have greatly increased the spiritual criminality of the case." It's unclear just whoKafka presumes is criminal.
A similar offer was later extended to Gershom Scholem, who accepted.
•
A vantage onto our inner world, and maybe Kafka's, is encoded in the final pages—a selection and refinement of the preceding writing. Developed in the countryside during a failed convalescence, a numbered series admits us into, presumably, this lawyer's metaphysics. His most beautiful work and what I cherish among his entire body—and almost anybody else's—the Zürau aphorisms draw the battle lines for the encounter between sin and devotion, yet the two forces assume traits of one another as soon as our presumptions lose their hold.
In other words, Kafka was conversant in a lineage of interrogators who bypassed the entirety of creation and directed their questioning to God.
Like an acrobat of the invisible, Kafka circumscribes in these 109 entries "the infinite radiations of my spiritual existence." A blaze of far less consequence than the burning bush, it's a paltry expenditure of unquantifiable energy that will consume every body.
And what follows becoming consumed? There is a remnant—"the indestructible element in oneself." Finally, here "is the indivisible union that exists between human beings," but we, the living, only intuit it in passivity, in isolation—and it is only activated by our disintegration.
The indestructible articulated a law that continues to escape us. It is a law that is fugitive.
It lets us keep our names as it destroys each of us—uniquely.
"One cannot not-live," an aphorism concludes, suggesting the inevitability of faith.
•
Perhaps my attempt to synthesize these fragments was done in bad faith. Just as Kafka misspelled "Oklahoma," I am no child of Europe. Instead, I'll beg pardon and, in recompense, bring us a bit of sunshine.
A photograph shows Max Brod and Franz Kafka sitting in swim trunks on the beach. Both smile, confirming the depth of their friendship. While Brod resembles a figure of virility—straight posture, sturdy chest—Kafka, as in other portraits, has contorted himself. (To save the reader some effort, I replicated the pose. I found it unnatural, rather hopeless.) Kafka has raised his leg, obstructing his sunken torso. With hands crossed, his fingers poise over the sand. Through those writerly hands, he has invented some ten-legged thing turned toward us.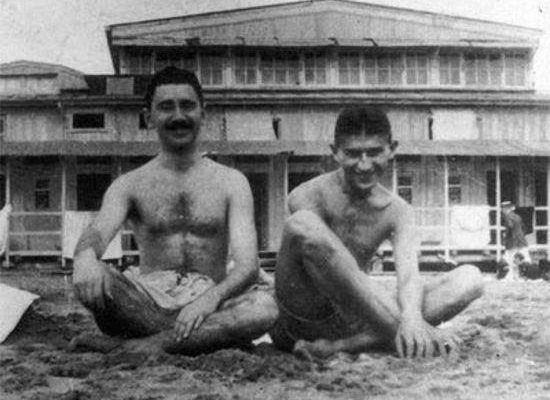 I cannot locate his smile anywhere in the writing withheld from the fire he requested—a blaze that was never even kindled.
The text was originally published by New Life Quarterly magazine (Oakland, California).